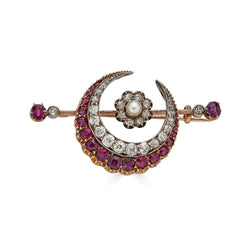 Antique Diamond and Ruby Crescent Brooch with Central Pearl
One of the most beautiful crescents we've had the pleasure of offering. The rubies are darker and glow beautifully amongst the diamonds. A truly special piece that I am sure will end up becoming an heirloom that will be treasured for years to come.
Victorian crescent jewelry was immensely popular fueled by their fascination with astronomy. 
Condition: Normal antique wear
Metal: 14k Gold
Age: Late 1800s
Dimensions: 2" across approximately