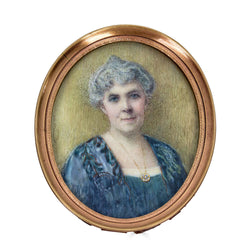 Portrait Miniature C. 1890 of a Late Nineteenth Century American Lady
Portrait miniatures began to experience immense popularity in America from the 1890s into the 1920s inspired by the founding of the American Society of Miniature Paintings in 1899. 
Neither the painter or the subject is known in this miniature by the lady's portrait is beautifully executed and the overall work clearly reflects the influence of the Arts and Crafts aesthetic. Subjects painted in the Arts and Crafts movement were painted as they were seen and not embellished with ornamental flourish. 
The portrait is painted in watercolor. It is protected under a glass lens and housed in a gilded copper surround that was likely originally set within a wood or black papier-mâché frame.
Condition: Removed from an object at some point 
Metal: Gilded Copper

Age: C. 1890
Dimensions: 2 3/16 x 2 3/4"