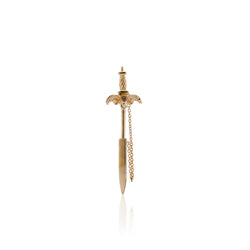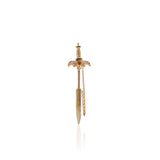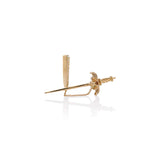 Agape Sword Earrings
A fresh take on the sword earring and an evolution from our earlier sword earrings from 2019. These statement making earrings are inspired by antique jabots, sword or arrow pins that would be worn on a jacket or scarf. Created entirely by hand and requiring hard work to assemble, we hope that they give you the strength to tackle your day head on like the warrior you are.
1 5/6" long, sold as a single or pair 
10% of each sale will be donated to Wounded Warrior Project (woundedwarriorproject.org), an organization dedicated to supporting veterans and service members who insure physical or mental injuries, illnesses, and wounds.
Our Jewelry is proudly idealized, designed, prototyped, and produced in New York City from start until finish by hard working hands.
If you are interested in a custom stone, an alternative metal, or adding a chain to your order, please message us at inquiries@kil-nyc.com
Please take note of current production times on our home page. If you need any guidance please email us.