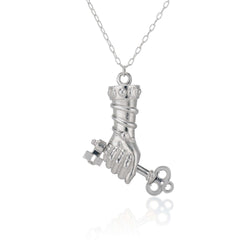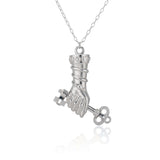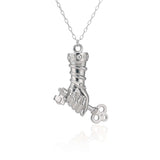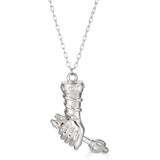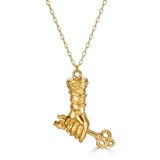 Hekate Dexia - The Key
Based on the traditional Figa the Mano Fico, this pendant is intended to be a symbol to ward of evil and protect the wearer. The inspiration behind it was Hekate, the greek god of witchcraft, the moon, and femininity. In her hands she carried a key and a torch. The key was to the underworld and the torch illuminated the night.  
Hekate also representing crossroads of all kinds. We hope that this mystical key will guide you and help you find clarity and direction when there is none. 
This Figa is completely hand carved.
10% of each purchase will be donated to The New York Women's Foundation (nywf.org) to aid in their mission of advancing justice for women and families.
1.5" from bale to the tip of the pendant, 20" chain
Our Jewelry is proudly idealized, designed, prototyped, and produced in New York City from start until finish by hard working hands.
If you are interested in a custom stone, an alternative metal, or adding a chain to your order, please message us at inquiries@kil-nyc.com
Please take note of current production times on our home page. If you need any guidance please email us.