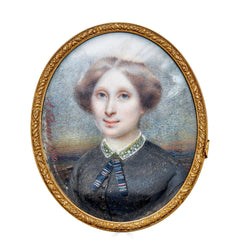 Portrait Miniature by Marie Aimee-Amelia Fleury, of a Mid Nineteenth Century French Lady
The subject in this portrait is beautifully rendered. The details of her clothes and the colors are superb. She is depicted at seashore at sunrise or sunset. If you look behind her shoulders, you can see waves rolling into shore that are reflecting light. This is a unique thing to see depicted so well in a portrait miniature. 
The portrait is painted in watercolor and gouache. It is protected under a glass lens and housed in a gilded brass surround that was likely originally set within a decorative box or frame. The artist's signature and date are inscribed to the left edge " A. Fleury / 50". Marie Aimee-Amelia Fleury lived in Paris (at 14 Rue de Beaune) and was active throughout the 1840s and 50s painting both portrait miniatures and larger portraits in oil on canvas. She exhibited works art the Paris Salon in 1844, 1845, and 1849. 
Condition: There is a "rub" above the subject's head. Something has rubbed away a large portion of paint color. I personally like this because it makes the lady look saintly but this can be restored professionally. 
Metal: Gilt Brass
Age: 1850
Dimensions: 2 1/4" x 2 3/4"