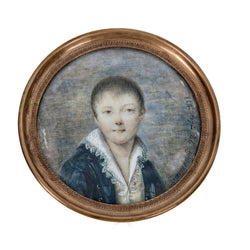 Portrait Miniature Dated 1811 of Young French Boy of the Napoleonic Era
This portrait miniature features a young unknown French boy. The young boy's hair is cropped short, and he wears a white shirt with a large, open lace collar, over which he wears a blue gray-colored coat. The miniature is signed along the right edge and appears to say "Barreaud" but not much is known about this artist as he is rarely referenced. The portrait is dated after this signature inscribing "22 7bre 1811". While one might assume that this date refers to the 22nd of July 1811, it actually refers to the 22nd of September 1811. Until the mid 19th century, it remained customary in France to begin the calendar with March being the first month - a carryover from the Julian calendar.
The portrait is painted in watercolor and gouache. It is protected under a convex glass lens, and housed in a gilded copper surround that was likely originally set within a decorative box. 
Condition: There is a slight water stain above the artist's signature to the right, and a minor rub on the left edge between 8:00 and 9:00. The gilded surround has been cleaned and badly deteriorated backing paper has been replaced on the reverse. The price has been adjusted to reflect this. 

Metal: Gilt Copper
Age: 1811
Dimensions: 2 1/16" in diameter