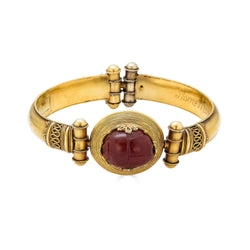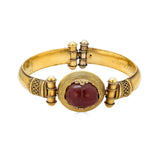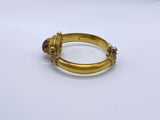 Egyptian Revival Bracelet with Scarab
This bracelet is gorgeous and special. Victorian Architectural revival jewelry is lovely and inspired by ancient cultures. This bracelet is comprised of gold and a hard stone scarab. The scarab is likely not ancient and instead inspired by one found during an archeological dig. Etruscan inspired milligrain work is done on each side of the bracelet. The scarab rotates. Inside of the bracelet there is an engraving that reads "Rome March 1848". This engraving may be a tribute to an event that happened years before.  

Condition: Normal antique wear, some oxidation to the gold, 
Metal: 15k Gold 
Age:  1860s-70s
Dimensions: 8" diameter but this bracelet is small. Would work best for someone with a small wrist.