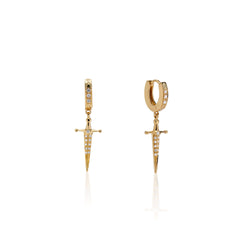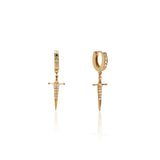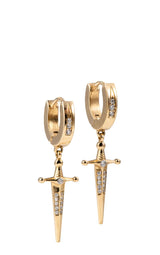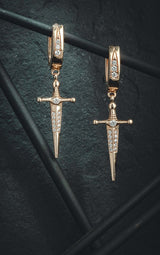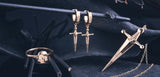 18k Gold Kelly Sword Earrings
A Pair of solid gold earrings that make a statement. Swords are iconic symbols of strength and these unisex earrings embody this. 

 Dedicated to my friend and social activist, Kate Kelly. 10% of each sale before tax will be donated to Equality Now, a non profit organization dedicated to fighting for gender equality worldwide. 
www.equalitynow.org
Our Jewelry is proudly idealized, designed, prototyped, and produced in New York City from start until finish by hard working hands.
Please note that these pendants are currently made to order and will ship in 2-8 weeks from the date of purchase. 
If you are interested in a custom stone, an alternative metal, or adding a chain to your order, please message us at inquiries@kil-nyc.com