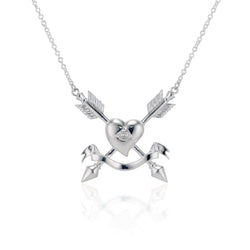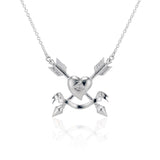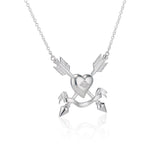 Agape Pendant
A pendant created for Valentine's Day 2021. The evil eye and witch's heart are symbols of protection. Two arrows piece the heart and a banner spans across them. 
We are happy to offer customization of this pendant. A few letters can be engraved into the banner or we can set stones of your choice to spell out an acrostic message. Please email us to inquire about this service. 
10% of proceeds from the sale of this pendant will be donated to Equality Now; an organization dedicated to promoting gender equality worldwide. 
20" chain
Our Jewelry is proudly idealized, designed, prototyped, and produced in New York City from start until finish by hard working hands.

Please note that these Pendants are currently made to order and will ship in 2-8 weeks from the date of purchase. 
If you are interested in a custom stone, an alternative metal, or adding a chain to your order, please message us at inquiries@kil-nyc.com