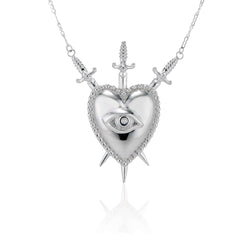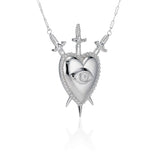 Varlow Pendant
A pendant inspired by the 3 of swords tarot card, entirely hand carved and with a protective eye. This pendant is based on a custom tattoo on our C.E.O.'s thigh.  
10% of the proceeds from this pendant will be donated to New Destiny Housing in New York City; a non profit dedicated to providing shelter and various other support services for individuals and families affected by domestic violence.
newdestinyhousing.org
20" chain 
Our Jewelry is proudly idealized, designed, prototyped, and produced in New York City from start until finish by hard working hands.
Please note that these Pendants are currently made to order and will ship in 2-8 weeks from the date of purchase. 
If you are interested in a custom stone, an alternative metal, or adding a chain to your order, please message us at inquiries@kil-nyc.com