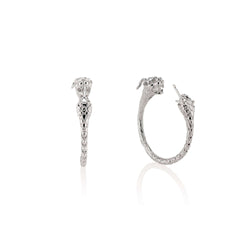 Chimaera Hoop Earrings
After creating both the Chimaera Cuff and Ring and showing them to a colleague, they encouraged us to make them into earrings and so we did. These appear heavy but are actually quite light.

This piece is based on the Chimaera; a fire breathing monster from Greek mythology. A lion with the body and head of a lion, the head of a goat, and with a serpent tail slain by Bellerophon. 
10% of each sale will be donated to The African Wildlife Foundation (https://www.awf.org) to aid in their mission to conserve Africa's animals.
Available in solid sterling silver, 18k plated sterling silver, and 14k gold with rubies and emerald eyes.
1" approximate diameter, 3" around
Our Jewelry is proudly idealized, designed, prototyped, and produced in New York City from start until finish by hard working hands.
If you are interested in a custom stone, an alternative metal, or adding a chain to your order, please message us at inquiries@kil-nyc.com
Please take note of current production times on our home page. If you need any guidance please email us.