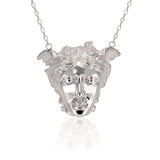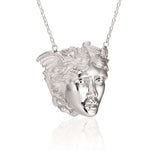 Medusa Pendant
The story of Medusa has been interpreted and told differently throughout the ages. One story tells of Medusa punished with serpent hair by the goddess Athena. Another describes Medusa as one of three gorgons birthed by sea gods Keto and Phorkys and subsequently slain by the hero Perseus. Both stories paint medusa as a villain when in reality she was a victim.
We wanted to create a fierce and statement making pendant. We spared no detail in creating a highly detailed ring made entirely by hand. Medusa's face is the perfect talisman against the evils in this world and we hope it gives you the strength to tackle life head on. 
10% of each sale will be donated to Safe Horizon (safehorizon.org). Safe Horizon's mission is to provide support, prevent violence and promote justice for victims of crime and abuse, their families and communities.
2" approximately across and from top to bottom, the back is hollow to make it lighter, 18" chain
Our Jewelry is proudly idealized, designed, prototyped, and produced in New York City from start until finish by hard working hands.
If you are interested in a custom stone, an alternative metal, or adding a chain to your order, please message us at inquiries@kil-nyc.com
Please take note of current production times on our home page. If you need any guidance please email us.