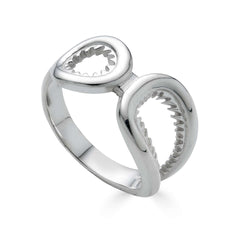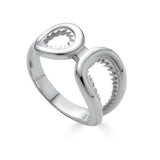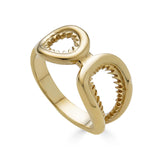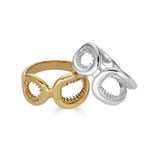 Dentata Ring
A ring inspired by a spiked Venetian chastity belt made for women who were thought to have "Vagina Dentata", a myth telling of women with teeth in their vagina with the implication that having intercourse would result in injuries or potentially castration. This folk tale is pervasive within popular culture and has become a feminist symbol of sorts. We wanted to create an empowering yet fashionable ring and we believe we succeeded. 

When ordering, please specify your ring size in the notes. 
 10% of all sales will be donated to Her Justice, an organization dedicated to helping women living in poverty in New York City by recruiting and mentoring volunteer lawyers to provide free legal help to address individual and systemic legal barriers.
herjustice.org
Our Jewelry is proudly idealized, designed, prototyped, and produced in New York City from start until finish by hard working hands.

Please note that these pieces are currently made to order and will ship in 2-8 weeks from the date of purchase.
If you are interested in a custom stone, an alternative metal, or a different chain length, please message us at inquiries@kil-nyc.com