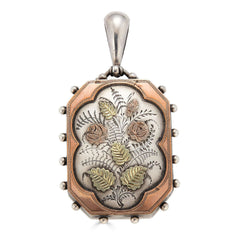 Floral Silver & Gilt Locket
A beautiful large Victorian locket crafted in silver with lovely rose and green gold gilt work. The Locket opens easily and can be used to store a photo or a small memento. 
Please note that this pendant doesn't include a chain. Please message us if you'd like one. 

Condition: Normal antique wear, the silver is oxidized minimally on the back and heavily inside. This can be professionally polished. 
Metal: Silver, Rose and Green Gold Gilt 
Age: Victorian  
Dimensions: 1 1/8" across, 2 1/4" from top to bottom including bale