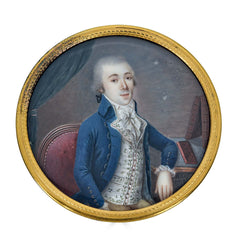 Portrait Miniature Dated 1793 of a Distinguished Gentleman Seated at a Desk
This antique portrait miniature is a rare work done by the French miniaturist Madame Marie-Sophie Loisier (maiden name of Contouly). Lousier was a pupil of the esteemed Jean-Baptiste Regnault. She lived and worked at 34 Rue du Temple in Paris and was active as a painter from about 1788 until 1802. Her work is noted for the porcelain-like finish she imparted her subjects with and the fine detail with which she painted clothing and other elements. The subject of this portrait is unknown but he was clearly a distinguished gentleman of some prominence. 
The portrait is painted in watsterling rector and gouache and protected under a convex glass lens. It is housed in a gilt copper surround that was likely originally set into a tortoiseshell box. Signed on lower right for Loisier / 1793. 
Condition: A few very faint waterspots in the upper right hand portion of the portrait. This is not uncommon for a portrait miniature of this age. 

Metal:
Age:
Dimensions: