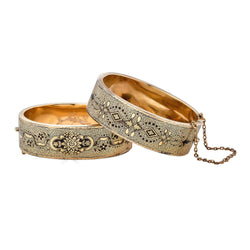 Victorian Taille D'epargné Bracelet Set
This gorgeous bracelet set is crafted in 14k gold. At first glance because of the black enamel these could seem like mourning jewelry but it is likely that the black enamel choice was purely aesthetic. 
Taille D'epargné is a technique where shallow engraved lines were filled with opaque enamel. These are likely of french origin possibly crested for export.  


Condition: Normal antique wear, some oxidation to the gold, minimal enamel loss 
Metal: 14k Gold 
Age: Late Victorian 
Dimensions: 6.25" diameter