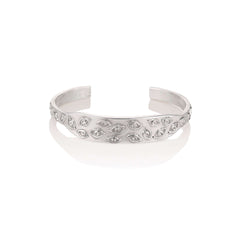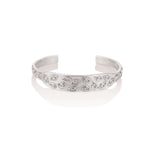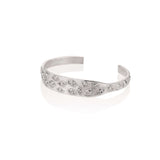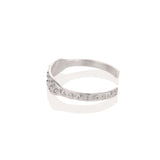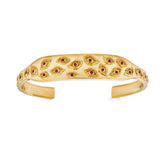 Argus Cuff
Argus was an all seeing giant with 100 eyes and slain by the god Hermes. Hera then set his eyes onto her favorite bird, the peacock. 
Eyes are timeless and represent one's sixth sense, alertness, foresight, and hindsight. They are also worn in Greek culture to repel the Evil eye. These beautiful hand carved eyes are all the protection you need to take on the day. 
10% of each sale will be donated to Visions: Services for the Blind and Visually Impaired (visionsvcb.org), an organization dedicated to providing services for those who are visually impaired and help them lead independent lives.
2 1/2" diameter approximately, 8" around, cuff is adjustable 
Our Jewelry is proudly idealized, designed, prototyped, and produced in New York City from start until finish by hard working hands.
If you are interested in a custom stone, an alternative metal, or adding a chain to your order, please message us at inquiries@kil-nyc.com
Please take note of current production times on our home page. If you need any guidance please email us.