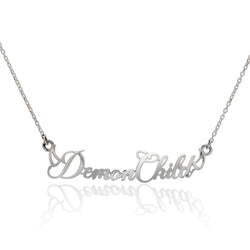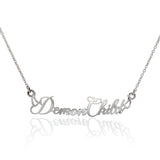 😈Demon Child😈 Nameplate
The first of many alternative nameplates we are concocting, this one was inspired by our CEO's mother who referred to him as such due to his devious and calculated demeanor in his childhood. Wear your horns with pride as it's sure to catch the eyes of many especially during your next family reunion.  
***Nameplate jewelry has a long history starting in Ancient Egypt and has become increasingly popular since the 1980s. POC communities would wear these necklaces with their names on them to help people pronounce them correctly. Patricia Field later made nameplates shoot into mainstream culture by bestowing one upon Sarah Jessica Parker's character in Sex and the City. Since then there have been many iterations of them and as a POC-owned company, we are thrilled to offer alternative options for those needing a cheeky addition to their neckmess.
We do offer custom nameplate necklaces in your choice of font, size, name, etc. and we can also do them in several languages such as Japanese or Russian. Please email Krystelle@kil-nyc.com to inquire. 
Our Jewelry is proudly idealized, designed, prototyped, and produced in New York City from start until finish by hard working hands.
If you are interested in a custom stone, an alternative metal, or adding a chain to your order, please message us at inquiries@kil-nyc.com
Please take note of current production times on our home page. If you need any guidance please email us.