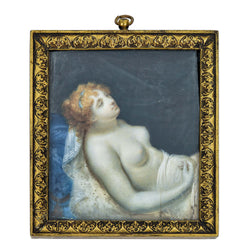 Portrait Miniature of a Semi-Nude Lady Depicted as Venus Reclining
A superbly elegant work, surely painted by an artist who studied in Rome. This portrait depicts a young lady as Venus Reclining, a common motif in many Renaissance and neoclassical era paintings and sculptures. The portrait is painted wonderfully in watercolor on a thin wafer of ivory and is housed in a heavy brass frame that is likely attributed to the Giroux Family of early 19th century Paris. The portrait is unsigned.
Condition: There is a slight hairline crack in the portrait extending up into the subject's arm. The crack is stable and doesn't detract from the appearance. The frame is missing it's original easel back. 
Metal: Brass
Age: C. 1840s
Dimensions: 3 1/8" x 3 3/4"