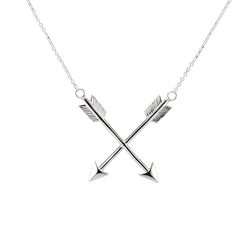 The Arrows Of Hercules
A layering pendant created from silver scraps that we had in the studio to use as psychic armor.  When Hercules slayed the Lernian Hydra, he dipped his arrows in it's poison which he later used to slay the stymphalian birds.
10% of each sale will be donated to 22 Until None (https://www.22untilnone.org) to aid in their mission to prevent veteran suicides. 
Each arrow is 1.25" across, 18" chain 

Our Jewelry is proudly idealized, designed, prototyped, and produced in New York City from start until finish by hard working hands.
If you are interested in a custom stone, an alternative metal, or adding a chain to your order, please message us at inquiries@kil-nyc.com
Please take note of current production times on our home page. If you need any guidance please email us.