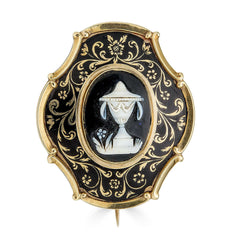 Victorian Mourning Brooch with Banded Agate Neoclassical Urn
This piece of victorian mourning jewelry is exquisite. The central banded agate is carved to perfection and has a neoclassical style urn and what appears to be a forget me not flower. Black enamel creates a gorgeous floral design. On the reverse there is a glass compartment to keep hair or a small photograph or memento. 

Condition:  Normal antique wear, minor oxidation to the piece that can be professionally buffed out. 
Metal: Gold-Filled 
Age: Victorian
Dimensions: 1.75" from top to bottom, 1.5" across