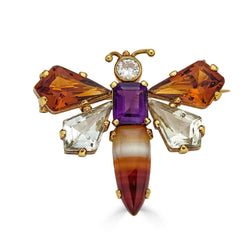 Vintage Gemstone Insect Brooch
A whimsical take on the insect brooch. This beautiful butterfly features agate, amethyst, citrine, and quartz stones. A really lovely splash of color. Perfect for a spring soiree or a prance in the garden. 
Condition: Normal antique wear, stones have very superficial dings to them only visible when louped. 
Metal: 14k Gold  
Age: Early 1900s
Dimensions: approximately 1.25" across