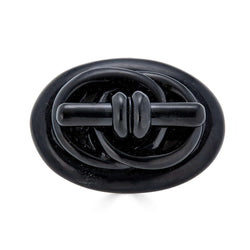 Whitby Jet Knot Brooch
A gorgeous and bold whitby jet mourning brooch from the 1870s. It is completed hand carved and is large. An exceptional example of mourning jewelry trends in the Victorian era. 
Condition: Normal antique wear, some flea bites and abrasions to the brooch which is normal for Whitby Jet jewelry 
Metal: The brooch pin is base metal 
Age:  1870s. 
Dimensions: Approximately 1.75" across